Bitcoin fell as the U.S. Federal Reserve Chair Jerome Powell announced the highest interest rate hike since 1994. But after that, the Bitcoin price later recovered. At the time of writing, BTC is changing hands at $22,537.
BTC/USD 4-hour chart | Source: TradingView
Fed hiked rates at the highest level since 1994, and Bitcoin price rallied after
Bitcoin's price fluctuated after the Federal Reserve announced further monetary tightening on Wednesday, falling to as low as $20,270 minutes after the Fed's statement. But roughly an hour after the announcement, the cryptocurrency was changing hands at $21,444. In a widely anticipated move, the central bank announced that it would raise the fed-funds rate, the interest rate at which depository institutions trade balances held at the central bank, by three-quarters of a percentage point, or 75 basis points.
Fed Chairman Jerome Powell said that members of the Federal Open Markets Committee said the inflation surprise on the upside warranted "strong action at this meeting" rather than waiting another six weeks for the FOMC's next gathering.
Bitcoin fell over 5% following the decision but rebounded during Powell's press conference, where he said that the Fed would boost rates by a half point or three-quarters of a point at each of its next two meetings.
"It's no surprise to see Bitcoin transactions being made in waves of realized losses. And this past week has actually seen the most realized losses since this data was available in 2009. High capitulation spikes can & will eventually foreshadow bottoms", Santiment reported.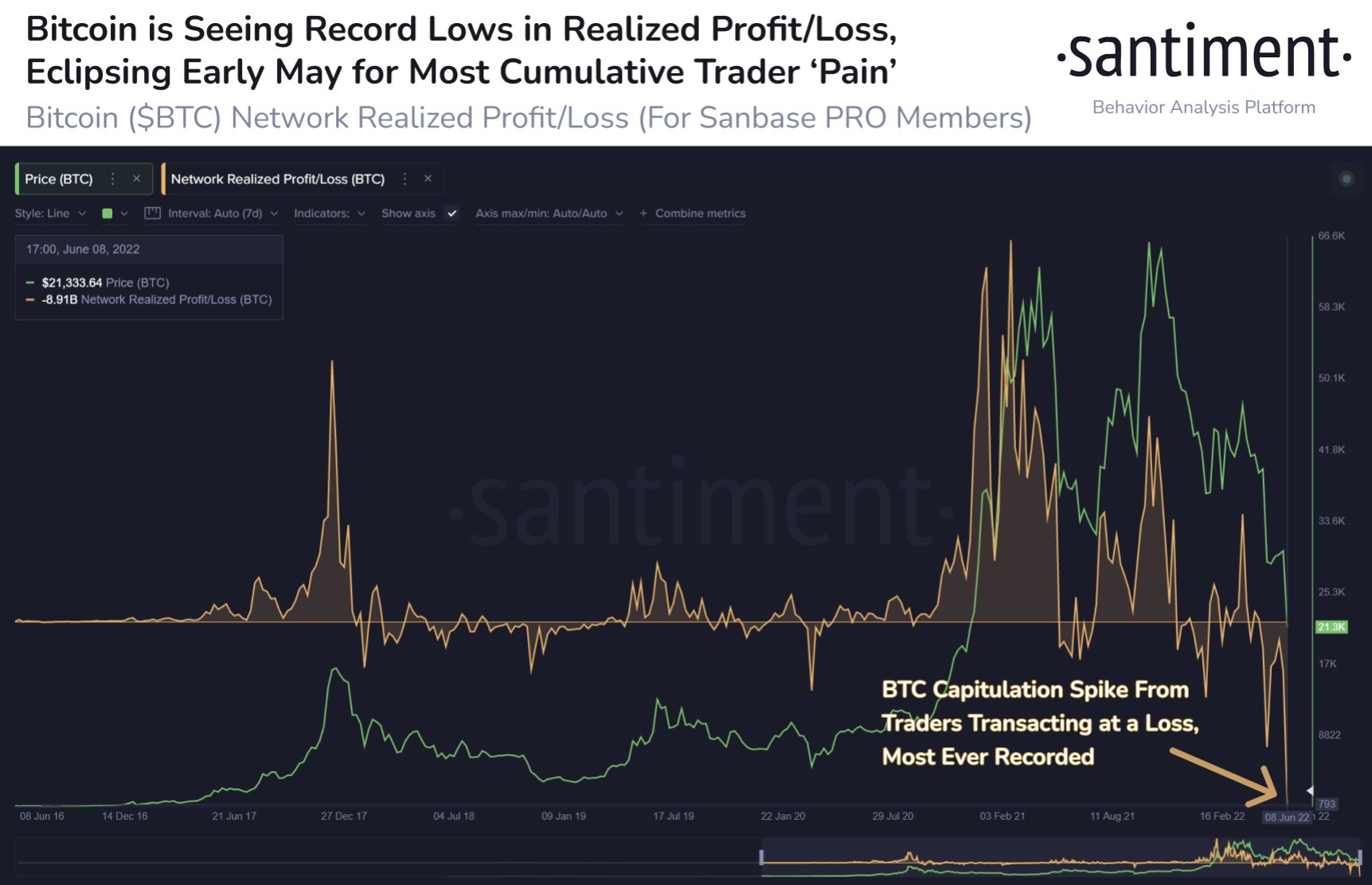 Ether, the second-largest crypto by market cap, also dropped first before rising about 4% from Tuesday to cross $1,200. Other major altcoins were in the green, with SOL up 20% at one point and UNI and DOT rising over 15%. The increases recovered some of the massive amounts of ground that major cryptos lost over the past six days following a surprising poor Consumer Price Index showing untamed inflation and then crypto lending platform Celsius' decision to halt withdrawals.
Meanwhile, the crypto industry continued to reckon with the fallout from Celsius and the collapse last month of the TerraUSD stablecoin (UST) and LUNA token that supported it. Bitcoin was trading near $40,000 before UST lost its dollar peg in early May, and the dual debacles undermined crypto investor confidence. Elementus' Galka noted similarities in the current environment to the 2008 financial crisis when equity markets plummeted.
Major moves included Cardano's (ADA) 15% boost to US$0.5328, and Solana (SOL), up nearly 20% to $34.25 as of publishing time. TRON's USDD is still trading lower than a dollar, but TRX was up about 15%, trading at $0.063.
The Fed's highest rate hike in 28 years comes as U.S. inflation rose to its highest point in 40 years in May. The Federal Open Market Committee (FOMC) target range is now at 1.5% to 1.75%, and the Fed is expected to continue to raise rates to at least 3% by the end of the year.
The overall cryptocurrency market cap stands at $974 trillion, and Bitcoin's dominance rate is 44.5%.
Read more:
Join us on Telegram
Follow us on Twitter
Follow us on Facebook